Collaboration
Collaboration is the act of working together with others to achieve a common goal or objective. It involves individuals or groups coming together to share knowledge, skills, resources, and ideas in order to produce a desired outcome. Collaboration can take many forms, from informal and ad-hoc collaborations to more structured and formalized partnerships.
Team Collaboration 
Collaboration is a crucial component of successful digital marketing efforts. Here are some ways collaboration can help digital marketing:
More ideas: Collaboration among team members can bring new ideas and perspectives to the table. By working together, team members can brainstorm new marketing campaigns and strategies that may not have been possible without collaboration.

Greater efficiency: Collaboration can help streamline the digital marketing process, allowing teams to work together to identify and eliminate bottlenecks, reduce redundancies, and speed up project completion times.

Improved accuracy: Collaboration can help reduce errors and mistakes by allowing multiple team members to review and provide feedback on work. This can help ensure that digital marketing efforts are accurate, effective, and meet the needs of the target audience.

Greater reach: Collaboration can help expand the reach of digital marketing efforts by allowing team members to share ideas and insights with one another. This can help identify new markets, target audiences, and distribution channels, and help ensure that digital marketing efforts are optimized for maximum reach.

Enhanced creativity: Collaboration can help inspire creativity by encouraging team members to think outside the box and come up with innovative solutions to digital marketing challenges. By working together, team members can push each other to be more creative and think in new and exciting ways.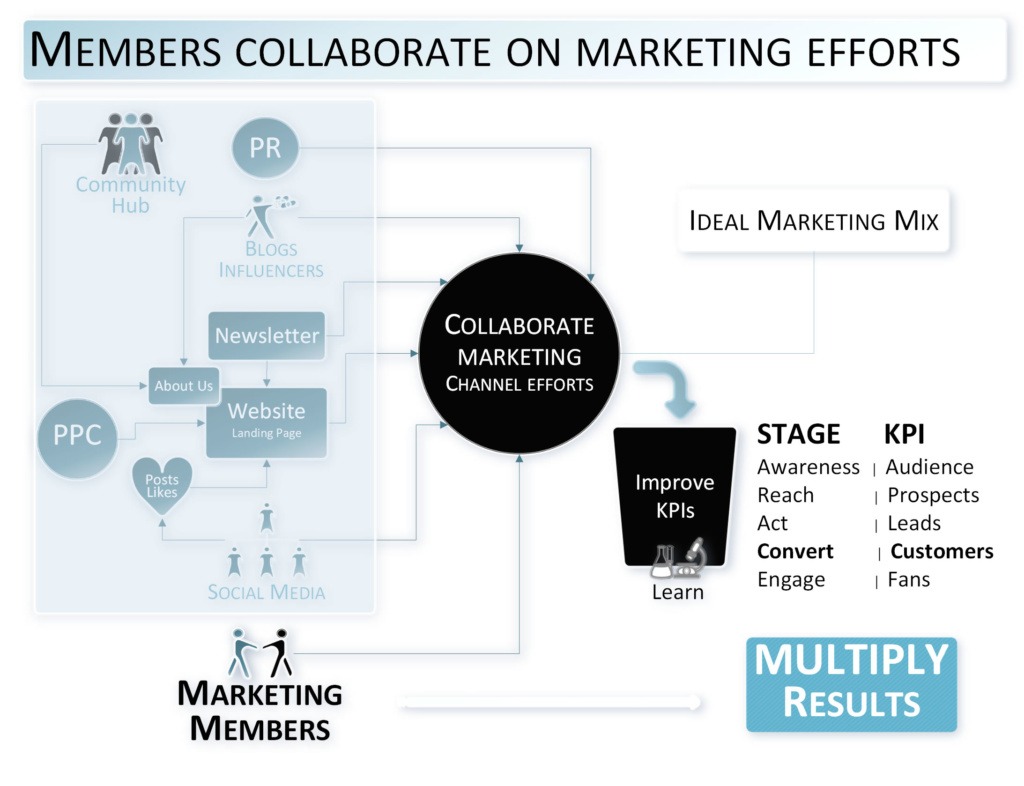 Collaboration is particularly valuable for tourism markets as it can lead to increased synergy, market visibility, visitor experience, and competitiveness. By working together, tourism businesses and stakeholders can achieve more significant results than they would on their own, benefiting the industry as a whole.
Collaboration with Partners
External collaboration with partners can be highly beneficial for digital marketing efforts in several ways:
Access to new audiences: Partnering with other organizations can give your brand access to new audiences that you might not have been able to reach on your own. This can help increase brand awareness, attract new customers, and drive sales.

Expanded reach: By collaborating with partners, you can expand your digital marketing reach beyond your existing networks. Partnering with organizations that have a strong online presence, for example, can help you tap into their followers and drive traffic to your own website or social media pages.

Shared resources: Collaborating with partners can give you access to shared resources, such as content, social media channels, and marketing tools. This can help reduce costs and increase efficiency, as you can leverage these resources to amplify your digital marketing efforts.

New perspectives: Partnering with other organizations can bring new perspectives and insights to your digital marketing efforts. This can help you identify new opportunities, refine your messaging, and stay ahead of the competition.

Greater credibility: Partnering with reputable organizations can help enhance your brand's credibility and reputation. This can be particularly valuable for new or emerging brands, as it can help build trust and legitimacy among your target audience.
Collaboration
Collaboration often involves a high degree of communication, cooperation, and coordination among team members. Effective collaboration requires a willingness to share ideas and feedback, the ability to listen actively and respond constructively, and a commitment to working together to achieve the shared goal.
Collaboration is increasingly important in today's interconnected and complex world, where challenges often require diverse perspectives and expertise to solve. Collaboration can lead to more creative and innovative solutions, increased efficiency and productivity, and improved outcomes.
Our Texas Beach Homes project is an award-winning ideal example of effective collaboration that helps each member become stronger in their individual market sector. Members are vetted for shared values and overlapping audience segments.